FEELING INADEQUATE?
Date: 5th June 2018 | Author: Alyssa Mak
"Moses said to the Lord, "Pardon your servant, Lord. I have never been eloquent, neither in the past nor since you have spoken to your servant. I am slow of speech and tongue." The Lord said to him, "Who gave human beings their mouths? Who makes them deaf or mute? Who gives them sight or makes them blind? Is it not I, the Lord? Now go; I will help you speak and will teach you what to say." ~ Exodus 4:10-12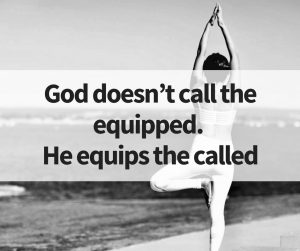 It's so easy for us to focus on what we can't do and lose sight of God's will for us.  When God calls us to do something, we immediately come back with 10 reasons why we need more to be able to fulfil the call.  "Only when I get this…only if I can have that…when the time is right…when I have this… when I have that…"
We all have weaknesses that we are aware of, and we're great at pulling out the 'inadequate' card to back down on God's calling for us.  Don't worry, we're not the only ones.  Look at Moses (Exodus 4:10-12), the Chosen one who led His people out of Egypt.  In this passage, Moses clearly knew that his weakness was his speech.  He didn't feel adequate for the job (of speaking up to the Pharaoh!).  Ironically, he allowed his feeling of inadequacy to be an impediment to God's call for him.  I love how he tries to negotiate with the Lord!  Have you done a Moses? How foolish is it for us to think that God cannot accomplish what He has planned even when we do not have the gifts and talents?
Let me give you this: God doesn't call the equipped. He equips the called.  Get it?
You see, it is so easy for us to take pride and find confidence in what we are good at, but God's power is revealed most when He accomplishes His work through our weakness.  The Apostle Paul illustrates this beautifully in the book of Romans,
"My grace is sufficient for you for my power is made perfect in weakness, therefore I shall boast all the more gladly of my weakness so that the power of Christ may rest upon me." ~ 2 Corinthians 12:9
Our pride tells us that it is with our own strength that we can deliver and serve God but it is quite the opposite.  Whether it be our strengths or our weaknesses, God's work will always be accomplished.  Instead of debating whether we are good enough for the job, simply know that we are blessed to be God's hands and feet to do his work. What a privilege!
Don't forget that God is the one who created us and the world.  He is the one who gives and takes.  Remember that God does not call the equipped but He equips the called.  Are you good enough for the job? Who cares! God is.
REFLECTION:
Are you negotiating with God on something? Perhaps asking for more before you are ready for what He has called you to do? Perhaps relying on your own strength, planning and hard work to accomplish something, forgetting that God is in it all?
Maybe it is time to let go of that pride and confidence in your abilities and have faith that if God has called you into this task,  He will deliver!  Spend time meditating on this and pray about your concerns and worries.  Ask God not for more but for courage and faith.